The Costa del Sol is one of Europe's most famous destinations for sun, sea, and sand. The area has a pristine coastline and a wealth of resorts to choose from, but which beachfront hotels are the best?
Marbella is a popular destination for beach lovers, and there are many fantastic beachfront hotels in the area. There are a lot of hotels in Marbella that offer a great view of the Mediterranean Sea and the city itself. If you're looking for the best beachfront hotels, take a look at these top five options.
Top 5 Marbella Beachfront Hotels to Stay In
We have created a list of the best beachfront hotels in Marbella, Spain. Beachfront hotels with wonderful sea views, private beaches, and ocean views.
---
Beachfront Hotels Golden Mile
This luxurious beachfront hotel is set between Marbella and Puerto Banús. 5 restaurants and 2 luxurious pools. Surrounded by lush gardens with direct access to the beach. The hotel has 115 rooms and suites and an impressive collection of 17 villas, as well as a variety of bars and restaurants that add to the village-like, charming feel of the resort.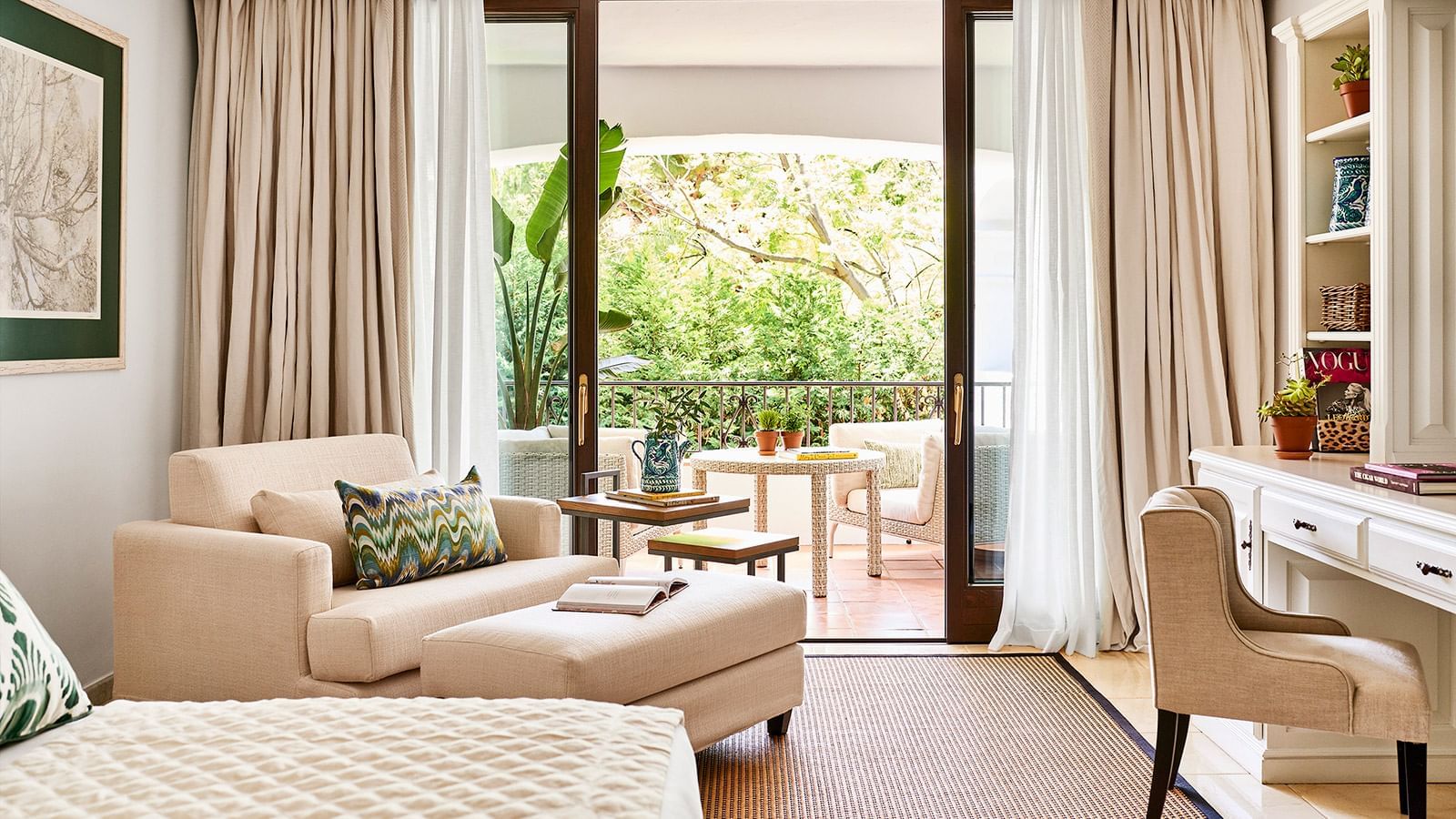 El Patio
Enjoy fresh Mediterranean cuisine at El Patio restaurant while catching up with friends over a shared dinner or a tempting tipple. Live a pure dining experience in Marbella!
Beach Club
Mediterranean specialties, poolside cocktails, and sunbathing await. Leave all your worries behind, and enjoy la Costa del Sol in all its splendor, surrounded by the people you love.
MC Beach
MC Beach takes a cue from Malaga's traditional chiringuitos (beach bars), and laid-back fish and seafood restaurants right on the beach.
The Grill
Our master of the grill has followed in the footsteps of his father, Roque, to offer time-tested recipes brought to life over a crackling fire.
Summer Bar
To the tinkle of the piano and sounds of the nightly live music, guests are invited to kick off their evening or while the night away in the heady jasmine-scented orange grove of the eponymous Summer Bar, host to many an illustrious guest throughout the years and many a fable to tell.
Garden pool
For those in the know, this hidden gem is tucked away in the heart of the hotel where guests can enjoy an intimate pool setting and an easygoing lunch based on the garden-inspired Andalusian fare. The perfect daytime spot for thumbing a book or staying snug on a windy day.
---
Stay at Marbella Club Golf Resort
Location: map
Rates and availability: Marbella Club
---
Beachfront Hotels Golden Mile
Puente Romano resort is located on the south coast of Spain, on the famous "Golden Mile". This is a luxurious residential area situated between Marbella and Puerto Banus. With a village-style feel instead of a typical resort atmosphere, in Puente Romano, you can indulge in our spa and wellness facilities, open-air courtyard, botanical gardens, world-famous tennis courts, and more than 15 different restaurants with unique menus. Every day is a new chapter. There are so many experiences to try at Puente Romano that your day will never be hard to fill. Relax by the pool overlooking the sea, raise your game with a morning of golf, soak in the sun over afternoon tea on the terrace, or pamper yourself before a big night out. Beachfront Hotel Puente Romano has something for everyone.
Stay in Puente Romano Resort
Location: map
Rates and availability: Puente Romano
---
3. Gran Hotel Guadalpin Banus – Puerto Banus
Beachfront Hotels Puerto Banus
Beachfront Hotel Gran Guadalpin Banus has direct beach access and is a 15-minute walk from the center of Puerto Banus. It offers an outdoor pool, wellness center, gym, and free Wi-Fi. All air-conditioned rooms at Gran Guadalpin Banus feature a flat-screen TV and a safe. All have a private balcony, some with sea views, and the bathroom comes with a hairdryer and toiletries.
Stay in the beachfront hotel "Gran Hotel Guadalpin Banus"
Location: map
Rates and availability: Gran Hotel Guadalpin
---
Beachfront Hotels Puerto Banus
Beachfront Hotel Boutique B51 is located at the main dock of Benabola in the popular Puerto Banús, Marbella. The hotel has 45 Double Rooms, 5 spacious Executive Suites, and 1 Luxury Grand Suite. Situated in the heart of the Costa del Sol, with modern construction and "Mediterranean town" style, Hotel Boutique B51 offers all the comfort even the most particular of guests seek. Extraordinary sea views, distinctive decoration, and iconic design combine to make this hotel one of the top accommodation options in Marbella.
Stay in Beachfront Hotel "Boutique B51"
Location: map
Rates and availability: Boutique Hotel B51 / B51 Executive Flats Marbella
---
5. Don Carlos Resort & Spa
Beachfront Hotels Marbella
Don Carlos Resort & Spa is located on one of the nicest beaches of Marbella, just 10 minutes from Marbella's historical downtown and close to the area's most exclusive restaurants, shopping, nightlife, and entertainment.
Spa
Relax and unwind at the Oasis Spa, for adults only, with more than 1.600 sqm of bespoke facilities including a complete water circuit, beauty & wellness programs with state-of-the-art equipment using products from Natura Bissé, and the latest trends in treatments.
Beach Club's
Two private beach clubs, including Nikki Beach for unforgettable celebrations and the Don Carlos Beach Club with a more relaxed atmosphere. Both beach clubs have outdoor swimming pools.
Resort
The beautiful resort is nestled around a lush tropical garden of 40.000sqm which is an oasis of its own. The resort is formed into 3 sections composed of the Hotel with 243 rooms and suites, the Oasis boutique adult's only hotel with 35 accommodation options, and the Deluxe Villas with 24 fully equipped units with 1 or 2 bedrooms. All options offer an extensive VIP program, including personal assistant service at the Deluxe Villas.
Activities
A fully equipped water sports center during the summer season offers action-packed fun for adults and children. Live the Don Carlos Resort & Spa at its fullest enjoying all the leisure facilities including the Don Carlos Tennis Club with 7 clay courts, 2 hard courts, 1 basketball court, a football 7 court, and a complete gym and spinning room. An additional 24-hour gym is available at the hotel.
Kids Club
The Expedition kids club will be the center point for the little ones where parents can entrust the fun and well-being of their children to our qualified staff providing them with a program of creative activities, fun, and games throughout the day. The main outdoor swimming pool is heated so guests can swim any time of the year. There is also a kid's plunge pool next to the main pool.
Restaurants and Bars
Gastronomy plays a very important role in the resort where 6 restaurants and 3 bars are available offering local and international experiences with bespoke concept gastronomy. The resort welcomes meeting and incentive groups offering 13 meeting rooms where the largest room can hold up to 1000 delegates with high ceilings and sea views.
Book your stay at "Don Carlos Resort & Spa"
Location: map
Rates and availability: Don Carlos Resort
These beachfront hotels in Marbella offer the ultimate in luxury and relaxation, so you can enjoy the sun, sand, and sea to the fullest.
---
Maybe you are interested in:
Discover Nueva Andalucía: Unveiling the Beauty and Charm of Southern Spain
Top 10 Spa Hotels in Marbella for 2023, According to Airbnb
Discover the Beauty of Aloha Golf Club – A Golfer's Paradise